About HexTile
HexCore is proud to be able to offer the highest quality large format Italian porcelain through our collaboration with a truly world class innovative manufacturer that epitomizes the definitions of luxury, design, engineering, creativity and versatility to deliver essential material for all applications, even the largest projects. Through our unique distribution model we are excited to be able to offer this luxurious product line at attractive price points, providing inspiration for your imagination and project aspirations.
HexTile tiles are dry pressed porcelain slabs that provide the maximum degree of durability and workability of porcelain stoneware with the highest PEI ratings available (PEI 5). With confidence HexTile can be utilized for almost any application imaginable, from floors to vertical walls, furniture, tables, worktops, doors and the interiors of RVs, yachts and cruise ships.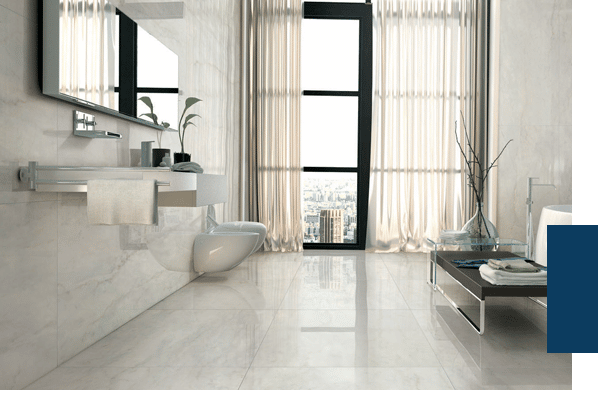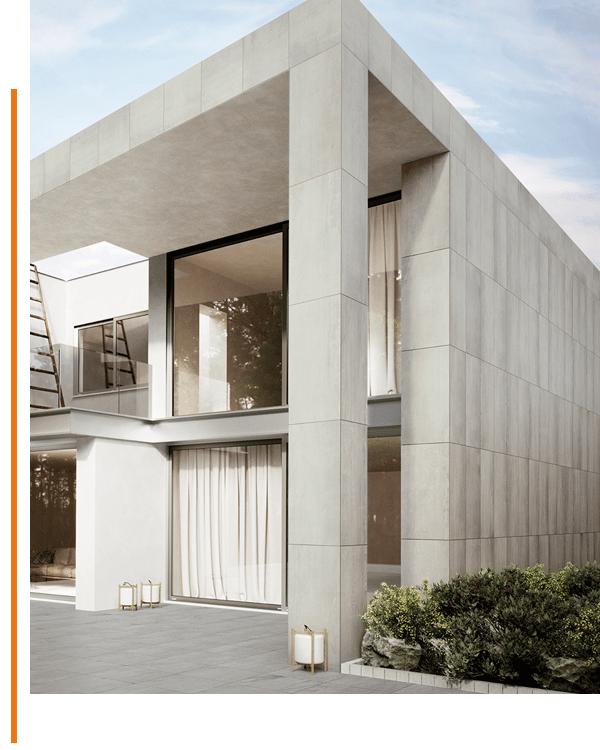 The tile is available in many sizes, from the largest on the market in 320x160 cm (6 mm thickness) and 324x163 cm (12 mm thickness), to the more traditional 60x60 cm (10 mm thickness), for a complete and versatile project. The two different thicknesses address specific technical constraints in different designs contexts.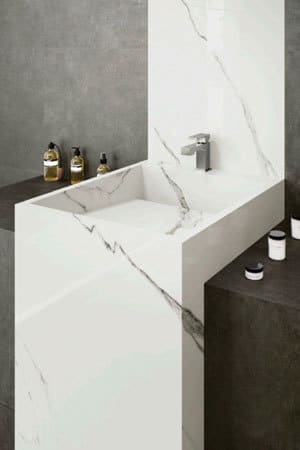 6mm, ¼"
The 6 mm thick version offers a lightweight option which is extremely practical in the field of interior design and furniture, as well as for curtain walls or wall tiles mounted with a direct bonding method.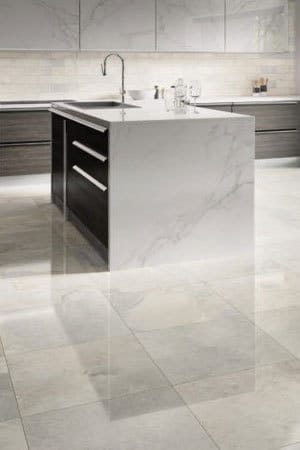 12mm, ½"
The 12 mm thick version offers higher mechanical strength. This thicker option is recommended for the production of kitchen counter tops, tables, and chairs.
Why Choose Dry Pressed Porcelain?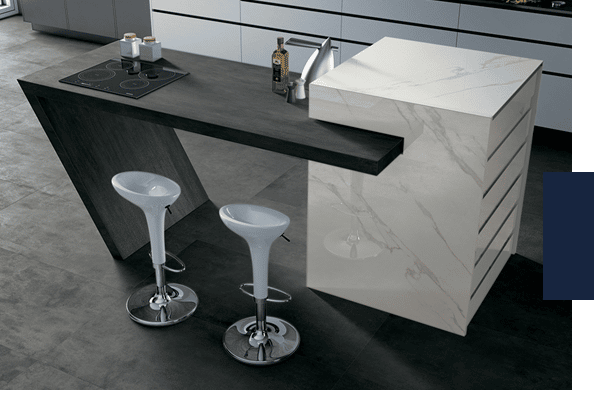 Countertops,
Tabletops and Floors
HexTile can be used to create countertops and tabletops of any shape and size, using a base slab measuring 320x160 cm for the 6 mm version and 324x163 cm for the 12 mm version. This extraordinary material guarantees stunning designs offering all the technological advantages of porcelain stoneware and allows floors and walls to be coordinated with the furniture featured in all the surrounding spaces.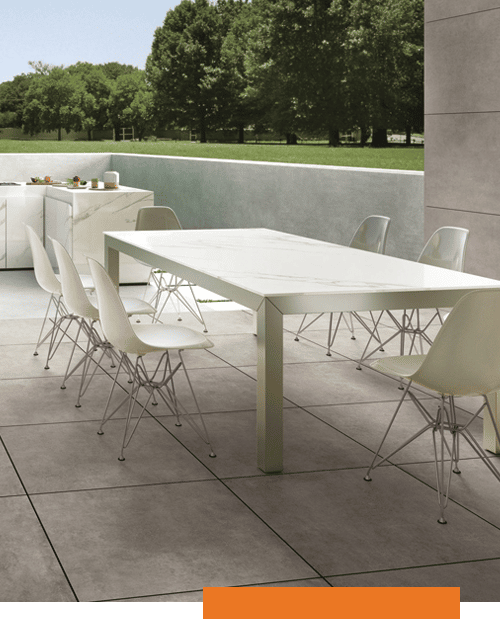 Indoor &
Outdoor
The possibility of crafting bespoke items from a large slab, the vast assortment of graphics, the natural and lapped finishes, and the various thickness options make HexTile the go-to collection for contemporary design. Both indoors and out, it is ideal for cladding all kinds of constructions, producing stylish arrangements accented by design-led accessories, with materials that are easy to work with and practical to use.
Opening Doors
To New Design
Thanks to its slender form and the versatility and strength of porcelain stoneware, HexTile is ideal for use as trim panels for doors of all shapes and sizes in public areas and homes alike, providing seamless continuity with the surrounding surfaces. All the materials are custom-processed to give form to the imagination and meet the needs of every single customer.
City Grey

Forest Slate

Basalt Grey

Graphite

Statuario

Calacatta

Arabesque

Frost

Ocean Breeze

Oyster Shell

Sea Shell

Fossil Grey

Eternal

Baroque Grey

Silver Travertine

Crema Travertine

Desert Sand

Silk Limestone

Urban Grey

Classic Grey

Absolute White

Absolute Black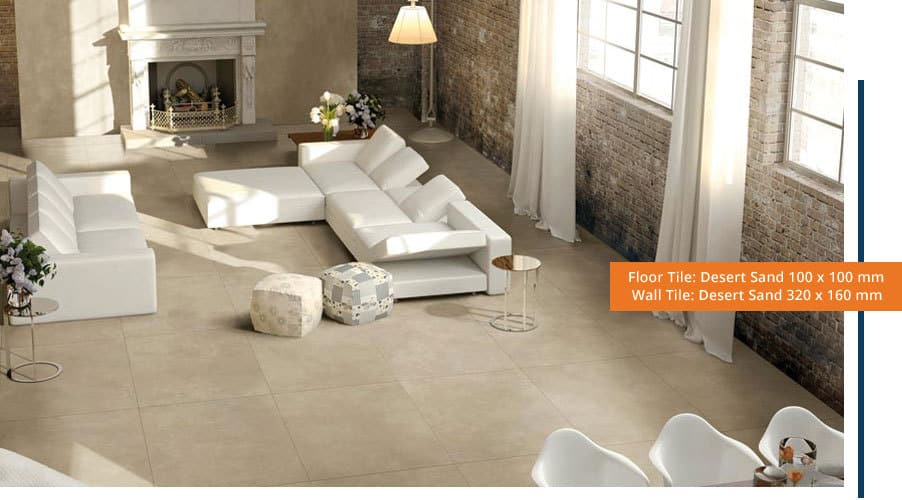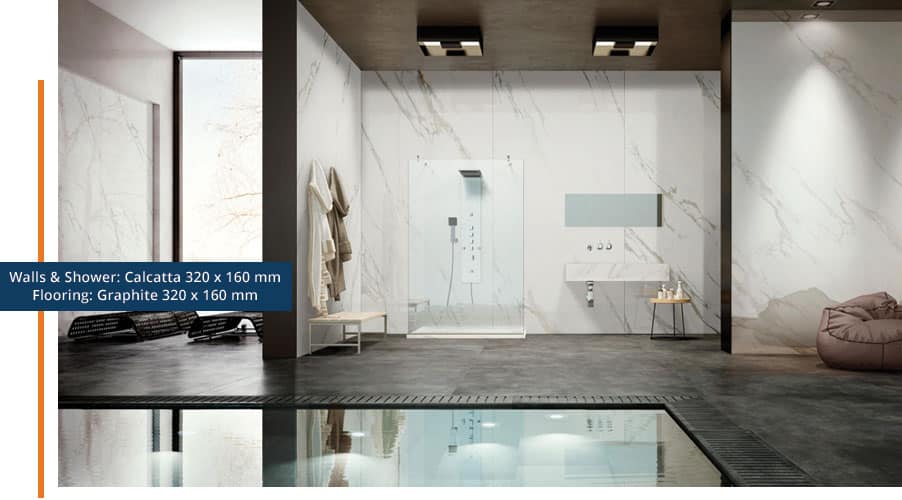 HexTile's decorative book matches features marble and natural veining ideal for stylish designs with a sophisticated mood.